Uplevel your money mindset and learn the secret to profitable pricing & mastering the money inside your business -
So you can charge & earn more.
GET OUT OF FEAST
TO FAMINE MODE
PRICE EVERY PROJECT
PROFITABLY
Here's the deal
There are two things about money & business I've learned to be true:
1/ Those who can talk money, make money.
2/ If you can't control money, money will control you.
Meaning:  
Whether you want to earn a six-figure salary...
Feel more ease about the money coming into your business
(because you've got a strategy that means there is more than enough)...
Or just stop feeling ashamed that you have no clue about your business finances...


You HAVE to know:
How to create money goals that expand you.
How to forecast your income and expenses.
How to price your services profitably.
And you have to be able to talk confidently to clients about money (or you're unlikely to ever make much)
I'M READY TO EARN MORE
THE CHARGE
is not just about how to price your interior design services. 
I created this program because I talk to designers every single day.  And I hear the same things again and again - 
"I don't know how much money my business makes."
"I know I'm undercharging but I'm too scared to price any higher."
"I don't come from money."
"I didn't go to a fancy design school, I could never charge that much."
I see brilliant creatives who've been made to feel they will never understand a spreadsheet. 
I see incredible work being done by talented designers who are working all hours for their clients and yet not earning nearly enough for the value they are delivering.
I see the desire for a flexible schedule being seen as incompatible with earning fantastic money.
It's time to put an end to this.
THE CHARGE is the only course specifically for interior designers that weaves together proven strategy, mindset and energetic practices around money and pricing.
 And yet THE CHARGE is so much more than a course. 
It is a call to arms against chronic under-earning.
It is an escape from the feast-to-famine rollercoaster.
It is your ticket to becoming financially empowered.
It's time to put an end to you feeling uncertain about money.
It's time to say 'no' to undercharging and not paying yourself properly.
IT'S TIME TO TAKE A STAND
What I'm teaching inside this program is the key to you finally feeling confident about your pricing and earning so much more. 
You will learn...
✓  How I went from charging 3 or 4 figure sums, to signing incredible clients on sizeable 5 figure fees - taking on fewer clients, while bringing in massively more income.
✓  How I ditched hourly rates and soul-sapping time-tracking. 
✓  How I up-leveled my mindset and stopped low-balling myself every time I sent out a fee proposal.
✓  How I implemented value-based pricing in my business and began pricing the client, not the tasks or the time it would take.
✓  How I upped my game in terms of financial know-how and learned to manage the money in my business in the most simple, powerful way.
✓  How I went from awkward and unconfident talking about money, to easy breezy conversations with clients where the price is simply the price.
And I've not only done this in my business, look at some of the results my clients have got: 
They did this with the exact knowledge I am sharing with you inside THE CHARGE.


The information I am sharing…


The tools I am giving you…




This is everything you need to price your
interior design services profitably, FOREVER.
Inside
THE CHARGE
 you'll learn how to charge more, earn more and keep more of your money.
It's time to ditch the "I'm not a numbers person" mentality.
It's time to stop believing that having a flexible schedule, working less and taking on fewer clients is incompatible with earning fantastic money.
This program is about supporting you in mastering
the financials and the money mindset needed to make your business profitable and transform your personal finances.
Say goodbye to...
👋  Going round in circles, pricing with a finger in the air, the only certainty being that you have undercharged. Again. 
👋  Spending days writing a fee proposal before deciding that it 'feels' too expensive, dropping the price and then hiding under the desk while you wait for a response.
👋  Copying what other designers are charging without any idea whether they're actually making any money. 
👋  Spending countless hours tracking time & creating time-sheets to justify your meagre invoice to your client. 
👋  Paying your business bills, paying your freelancers, and only then paying yourself (and what you take out doesn't even begin to reflect the massive amount of work you're putting in).
Say hello to…
💸  Absolute clarity on your pricing strategy (with no time-tracking required). 
💸  A simple system for projecting your business income and expenses so that you know exactly how much you can pay yourself and are never caught short by a tax bill again. 
💸  Pricing the value that you are delivering to your clients and never leaving money on the table.
💸  Massively up-leveling your money mindset so fees and income that once felt way out of reach become the norm. 
💸  Holding your power in sales conversations, negotiations and conversations about money. No more clients walking all over you - now you are the one in control.
Here's a secret...
You don't need the latest time-tracking app.
You don't even need to record your time.
Time tracking is not required. 
My clients earn their biggest fees without hourly rates or clocking their hours like a subservient worker bee, having to prove themselves to their employer.
These out-dated, laborious strategies are creating overwhelm and unnecessary admin, which is draining your energy and ultimately getting in the way of you getting out there and making more money.
It gets to be easy.
Imagine...

💸  Completely changing your relationship with money.
💸  Finally understanding how to charge for your services so that you're no longer selling yourself and your time -  you're selling solutions to problems.
💸  Mastering the financials in your business, so that you're always feeling in control and empowered around what you're charging and the financial decisions you're making.
💸  Creating enough profit and money in the business to pay for support and invest in the things that will grow the business.
💸  Feeling confident and light as a feather talking to clients about money.
What I'm teaching inside
THE CHARGE
 is 
everything you need to know about money and pricing if you want your business to be profitable and your income to grow. 
It's everything you need to know about how to charge for your interior design services...
Along with the financial empowerment and money mastery no one ever taught you in school...
And the massive mindset up-levelling that will secure your success.
If you take what I'm sharing with you inside this course…
If you use it, practise it and apply it to every client, every project, across the lifetime of your business… 
Just imagine -
How much more you can charge...
How much more you can earn...
How much more you can pay yourself...
And what that would mean for your life.

 
Hear it from my clients...
With the same strategic, mindset and energetic work I'm sharing in this program, the designers I've worked with have created massive results -
Susan
Surrey, England
The work Katy and I did was totally life changing.
We delved into some deep rooted values around money mindset and the limitations I was putting on my business due to fear. As someone that understood the industry Katy had a deep understanding of what was possible, including the various challenges. Our studio had been undercharging hugely and there was huge work around changing this and feeling confident around our experience.
We landed our biggest project to date after working together, the design fee was a huge increase in previous work.
I cannot recommend Katy enough, if you are brave enough to take the leap this will be the best money you have ever spent on our business.
Stefanie
Staffordshire, England
I went from being completely overwhelmed with pricing - constantly removing £500 here and £1000 there on quotes - to now pricing fees of at least 4 or 5 figures. 
Before working with Katy I just didn't believe I was good or experienced enough to charge those numbers or that there were clients out there willing to pay.
Katy helped me align my thoughts and ultimately my quotations with the value I am delivering for my clients and wow - the difference is like night and day!  I'm now finally earning a salary I feel proud of.
Mairead
Cork, Ireland
I wanted more clarity and confidence around pricing.
The combination of mindset and strategy work has given me the confidence that I can go for the bigger jobs, the bigger fees, I know what I'm doing.
Plus I made back in one project what I paid for the coaching so what Katy is teaching… it works!
Alison
Hertfordshire, England
Most designers undervalue their services, and that was an issue for me too. Katy's expertise was insightful and inspiring - 

I now know exactly what my services are worth and the incredible value they bring to clients.
Best of all, my mindset has completely shifted. I'm no longer shy about discussing money and avoiding the awkward elephant in the room.
Katy has empowered me to take charge of my business and not just nod along with the client's demands. She made it clear that understanding your numbers and being in control are the keys to success and profitability. I now have the confidence to charge what I am really worth and not what I think the client can afford!
Emma
London, UK
Before I met Katy, I was very unsure about how to charge for my work and generally how to make financial sense of my business!
Katy taught me how to put a value on my work so that I could charge with confidence, giving me control as opposed to my clients controlling me.
Katy helped me to develop sensible and achievable goals, create coherent pricing structures and generally gave me the tools to run my business effectively - she has been invaluable to the success of my business.
Joanna
London, UK 
Before working with Katy my pricing was stuck, and I couldn't see a way of earning more without taking on more projects. I didn't believe I could charge significantly higher fees. If it felt expensive to me, then I wouldn't dare charge that to a client who might think that too.
I now know that we are not providing a service to help clients save money. And there are plenty of clients willing and able to spend on a luxury bespoke service, it's just a question of getting your marketing right to be visible to them! I no longer charge by the hour - all my pricing is structured around the value I'm delivering – a lifelong enjoyment of a unique garden shouldn't come cheap. So my fee proposals are bold and I no longer do bits 'for free' to please clients.
Katy has given me the confidence to be upfront about money with clients, to prequalify clients, to turn away those who can't afford it. And it has stopped those 'wobbles' I had before sending out fee proposals!
Kate
Berkshire, England
The money mindset work we have done has made me think bigger and be more appreciative around what my business is bringing to my life, as well as coming across more confidently to prospective clients.
I'm now much more aware of money - in that now I am running a business, not a glorified hobby!
Chloe
Kent, England
 

Since working with Katy my confidence has grown both working on proposals and with clients when they query costings. 

This has helped me seek out projects I want to be fully involved in, as opposed to just saying yes to everything! 
I now understand the value I bring to the table and how to price that accordingly.
I could've listened to a hundred podcasts and spent a lot of time reading books but I wouldn't have learned anything like what I've learned from working with Katy.
Elizabeth
London, UK
Working with Katy totally shifted my method of pricing within my business. I moved from using a percentage based or hourly rate pricing model to the method that Katy teaches of value-based, fixed fees.  It is clear, straightforward and eradicates confusion for the client. 
Not only has it made pricing and constructing a fee proposal simple and concise, but it has had a huge impact on knowing my value and having a better money mindset.  
Ultimately this shift has elevated my confidence around the service I provide, how to communicate pricing to the client, and have that inner knowing on how to execute on the value based pricing system.
I get it -
I get that charging more than you could afford feels audacious. 


I get that making interior design "accessible & affordable" feels comfortable. (But that's not a business, that's a charity, and the only person who loses in that situation is you). 


It's time to stop projecting your own feelings about money onto your clients, doubting whether you're worth that much, and tying your value to the hours you put in.


I am here to show you how to create a business you are so proud of because you KNOW it is profitable and sustainable.
The only thing standing between you and the income you dream of is knowing how to price your services, manage your money and master your mindset.
And I can teach you that
Introducing...
THE CHARGE
Where you learn the strategy, do the inner work and take the practical steps towards charging more, earning more and keeping more of your money.
No hourly rates, time-tracking, panic-discounting or secret mark-ups needed.
Here's what we're going to do...
1  
Daring to Dream
It's time to let go of old ways with money, create new standards, and adopt the money mindset needed to charge and earn more. 
Understand why you are currently charging and earning below your potential.

Learn the mindset shifts you need to make if you want to get out of feast to famine mode and start playing for more. 

Create money goals for your business that encourage you to step up and claim a new level of earning. 
2  
Money Mastery
Bringing in more money requires mastering the numbers in your business so you can make the empowered decisions that will drive profits.
Get to know your numbers and learn how to confidently project income and expenses using my super simple forecasting tool.

Recognise the importance of prioritising profit so you can create business savings, invest in support and pay yourself properly.

Create the systems that maximise cash flow and put you in control of the money flowing through your business.

Gain the oversight and clarity you need to make good leadership decisions. 
3  
Pricing for Profitability
There is no question I get asked more than "How should I charge for my interior design services?" and in this module we are diving deep into the answer. It's time to -
Understand why the common ways of pricing interior design services are not serving you.

Learn my profitable value-based pricing strategy, underpinned by buyer psychology and massively up-levelled standards.

Get my so-simple, high-converting fee proposal template and say goodbye to entire days writing proposals, or giving away your ideas before you're being paid to do so. 

Get my inside take on procurement, trade discounts, referral commissions, charging for pre-project preliminary ideas and costing for mid-project changes. 
4  

Secure Your Success
But whilst having the right strategy is vital, the true work isn't learning 'how to price'.  It's in loosening the grip that fear holds, building your self belief and standing in your power.
Let go of "what if I'm not ______ enough??" thinking.

Master the energetics of charging and earning more money.

Build the confidence and certainty needed to show up with an empowered ease that says

"I know the value I bring"

. 

Commit to holding your new standards, even with old clients.
Plus...
By joining THE CHARGE now, you are unlocking access to LIVE group Q&A calls with me for a whole YEAR!
I will answer your questions and coach you through whatever money mindset issues are coming up, within the safe and supportive space of a group of designers who, just like you, are committed to doing this work. Go, you!
What you get inside
THE CHARGE
4 x modules with the strategy and mindset teachings you need to -
Let go of old beliefs about money.
Learn the profitable way to price your interior design services.
Manage the money inside your business.
Rise to a level where you're charging and paying yourself more.
Hold your power when talking to clients about money.
What I'm sharing in these trainings is your pricing blueprint. 
Everything you need to never doubt your charging again and earn more forever.
Value £10,000 

 
(probably more) 
My almost 'done for you' income & expense forecaster - the exact same 'fill in the blanks' spreadsheet I use in my own business to forecast my income, manage my expenses, project cash flow and make sure I am never caught out by a tax bill.
Value £1500
(But seriously, what is the real value of finally understanding your numbers?  PRICELESS.)
Fee Proposal Template - the proven-to-convert fee proposal that moved me from hourly rates to fixed-rate pricing and took my interior design business to six figures and beyond.
Value £997
12 months of LIVE quarterly group Q&A calls with me to make sure you're supported as you integrate everything you're learning.
Value £1500
Total value you'll receive inside THE CHARGE
=

 

£13,997
But this is all yours for
£2200
Price will convert to your local currency on check-out.  
Price is net of sales taxes, which will be added depending on relevant international tax regulations.
This is exactly the pricing knowledge, mindset upgrade and practical tools I needed when I started my interior design business.


It took me 4 years of trial and error followed by a lot of determined reading, learning, investment in coaching, and putting strategy into practice before I started charging more and earning big.


Now you get to sidestep all of that: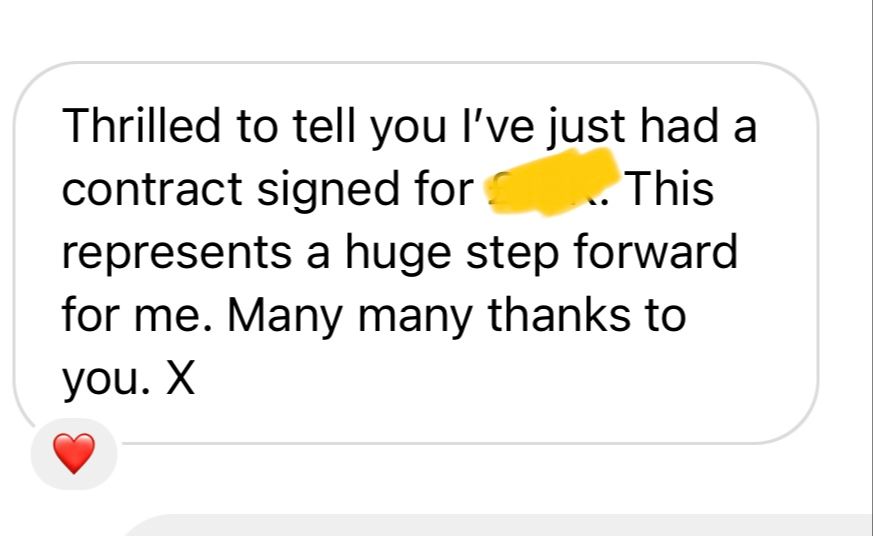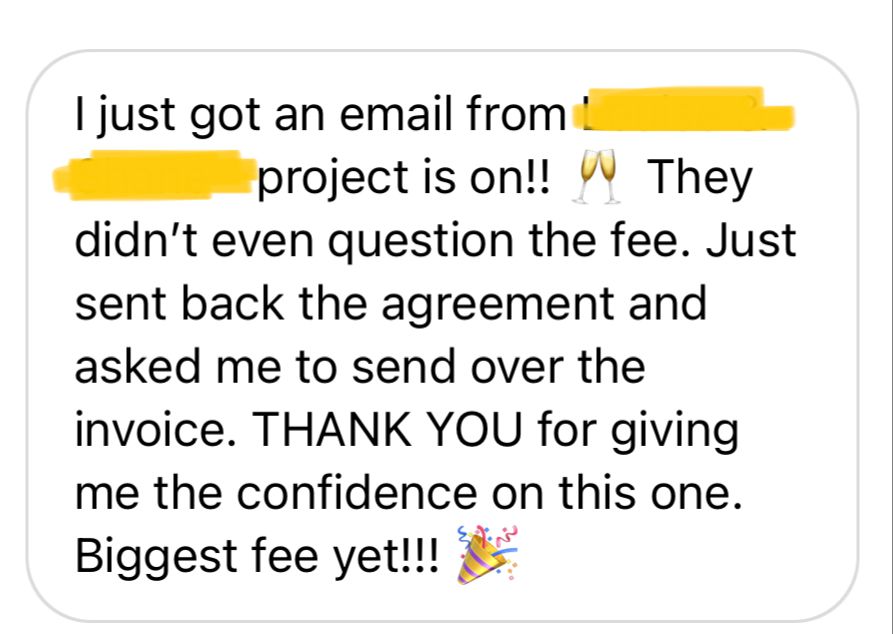 You 

undercharge and over-deliver

 

– or worse, you do all kinds of work for free (whilst feeling all kinds of resentful about it). 

You don't understand the money in your business - only that there is never enough.
Your pricing feels stuck. You can't imagine charging more without taking on more work. 
Your pricing is hazy and you're scared to be upfront with your clients about all the 'behind the scenes' ways you make money on their project.
You write a proposal then wobble and knock off money before eventually sending a fee which in no way represents the value you are going to deliver.
You would rather stick pins in your eyes than

 

talk to

 

clients about your pricing or have a conversation about money. 

You're stuck on a

 'feast to famine' rollercoaster,  exhausted by the relentless

 highs

 and lows.
You have been pushing your services based on how much money you can save your clients, rather than selling the VALUE you will deliver. 
You hold back on sending out invoices, worried your clients won't think you've delivered enough. 
Investing in your business scares you

 

- you are clinging to a money mindset of "what if it all runs out?" rather than 

seeing the potential to grow and make more.
Know this -
The Charge is not generic business advice.
It is not a light touch 'how-to' pricing guide that sends you down the unprofitable path of 'how to calculate your hourly rate' 🫠
It is not a formula.

It is a deep dive into everything you need to know about money and pricing bespoke services if you want your business to be profitable and your income to grow.
Sounds great, but can't you just give me a formula?  
Nope. And here's why - 
① Someone always thinks the formula is unfair
Whatever formula you come up with, whether it's a fixed % of the project cost, a fixed price per room, a fixed cost per square foot, or any other standard pricing formula you come up with, you're going to calculate your fee and either you or the client will feel hard done by.
② 

There are too many variables
Whether it's the client or the property, even when a project brief appears similar, you are going to encounter numerous variables. You might make money on one job but if you charge the same for the next one you could find yourself making a loss.
③ 

You're leaving money on the table
We can absolutely create standardised pricing for certain services (such as consultations or light touch design services) but if you try to put a standard price on a fully bespoke service you're not making the most of the opportunity.
You don't need a formula.

 
You need...
Business Strategy + Mindset + Energetics
From someone who knows the interior design industry inside out. 
Real client, real results
Hear it from my client, Jess...
"As an interior designer with over ten years experience working in senior positions in house at top firms, when I struck out on my own I found it almost impossible to value my work and experience in a way that would allow me to develop a sustainable business.
I was charging paltry fees and relying on commission to make income, leaving me open to the vagaries of the client changing their mind about budget. 
I used to hide under my desk when sending a fee out and always feel apologetic.
Katy helped me to get down on paper all the real costs that needed to be covered in running my studio at the level I wanted. It was an eye opener and a game changer! Because straight away you can see that under-charging is a very quick way to go out of business. 

Then Katy taught me to stop thinking about myself and my attitudes to budget/money and think about the value I was bringing to a client – who might be time poor, stuck creatively or just wanting a professional to hold their hands to avoid making costly mistakes.
I realised - I am not selling me, I am selling solutions to problems.


We worked on identifying everything that goes in to a successful project and that needs to be explicit (not implicit) in my fee proposals with a monetary value attached to it. 

Now, with a tightly defined scope and timeframe I feel able to charge meaningful and profitable fees. And to charge extra when things change. I don't apologise and I don't hesitate to send invoices out. If it's due, it gets sent. 
 
At the half way point of this financial year, I had already secured the full revenue target for the year and I am setting targets for even more growth next year too.


Working with Katy is transformational for any interior designer - her advice is dynamite. She will (kindly but firmly) blow up all your preconceptions about valuing yourself and your skills and set you on a path to charging profitably. You will earn your investment back in no time*."
* These words are a real testimonial from my real life client who did the work and got incredible results. Obviously my lawyer would tell me to point out that I cannot guarantee you will get the same results. 
Your go-to coach when you want simple strategy, clear guidance and a massive boost of confidence from someone who GET'S IT. 
I have overcome so much fear, resistance, awkwardness and uncertainty about pricing.
Everything you are experiencing - I have been there, and more:
I was not born into money.
I did not start my interior design career with a little black book of wealthy contacts.
I have grappled with how to charge, what to charge and the worry that if it felt expensive to me I couldn't possibly charge that to a client.
I have questioned whether 'I am worth' that much.
I have wobbled and dropped my fee just because a client asked me to.
But I knew I could change things...
And I now have a multiple six-figure business that pays me more in one fee than I once made in an entire year. 
It took learning, a willingness to take action (despite feeling scared), and plenty of lived experience.  But my clear-thinking and commitment to my own limitless growth has brought me to this place - 
Two six-figure businesses (firstly my interior design studio, now my coaching business).
Simple structures and systems within my business that makes money feel easy.
Coach and mentor to hundreds of designers who have gone on to create their own six and seven figure businesses and, more importantly, transform their mindset and quality of life as a result of the way they are now charging and earning.
All the work I did around money to get here - I'm sharing with you in this program.
I have helped countless designers see money and the value they are providing to their clients completely differently.
To transform their business finances and personal income.
To rise in their power and feel so proud of their business. 
I can't wait to start working with you.
Katy x
Got Questions?  Let's get you answers...
Who is THE CHARGE for? Do I need to have been in business for years?
Will THE CHARGE work if I'm outside the UK?
How long will this program take to complete?
What if I have questions as I go through the program?
How long will I have access to the program content?
What if I can't attend the live calls?
What's the investment for this experience?
What if I'm REALLY not a numbers person?
How is THE CHARGE different from other business support I could access?
Is this program really right for me?
How much longer can you afford to keep making it up as you go along, working for next to nothing (sometimes even working for free) before giving up becomes the only option?
I know (and you know) that you need to get on top of your numbers. 
I know you want to feel proud of your business.
I know you want to contribute to your family income and create the kind life you dreamed of when you went into this business. 
If this wasn't the case you wouldn't have made it this far.
Inside THE CHARGE you will go from "I'm not a numbers person" to having a clear understanding of how to charge for your services, manage the money inside your business and pay yourself more.
If you've been googling 'how to price interior design services' ever since you pressed 'publish' on your website this is the answer.
And if you've already experienced my coaching then this program is going to expand and challenge you to lean even further into the work you've begun around money.


If you're ready to get to work on your pricing then I'm here for you.
I'm going to be walking with you for the next 90 days as you untether from old beliefs about money and what is possible for you, create expansive money goals, get clarity on your business finances, understand how to price your services, and build the self belief and certainty needed to confidently communicate your fees and step into your potential.


This is next-level money mastery.
I'm in. Are you?